The U.S. Securities and Exchange Commission (SEC) has once again postponed its decision on whether to approve the country's first spot Bitcoin exchange-traded fund. Documents released on Nov. 17, reveal that the regulator has deferred decisions on filings from Franklin and Globe X. 
This deferral follows delays for other applicants, as both companies submitted their initial applications later than some of their competitors.
The postponement of decisions on these two spot Bitcoin ETF applications, Franklin and Globe X Bitcoin Trust, contributes to the prevailing uncertainty regarding the approval of such crypto-based investment products.
This development comes amid increased interest in cryptocurrency-based ETFs, exemplified by Fidelity Investments' recent filing to list its Ethereum spot Exchange Traded Fund (ETF) product with the SEC.
Meanwhile, BitGo CEO Mike Belshe anticipates more challenges for the approval of spot Bitcoin ETFs in the United States, pointing to unresolved market structure issues as a significant hurdle.
Crypto bulls regaining momentum
Grayscale's recent legal victory against the SEC in its quest for spot BTC ETF glory, has caused notable market shifts, fostering optimism for Bitcoin and altcoins.
The court's decision has particularly boosted Ripple's XRP, triggering a significant 6% surge post-ruling. Observers have argued that Grayscale's triumph sets the stage for a potential breakthrough in the creation of the first spot Bitcoin ETF in the U.S.
The court ruling emphasized the SEC's inability to justify its disparate treatment of Bitcoin futures ETFs and spot Bitcoin ETFs, hinting at a potential shift in the regulatory landscape for cryptocurrency investment products. 
Grayscale's legal success has ignited discussions on the prospect of increased institutional participation in the crypto sector. While the immediate impact is positive, ongoing developments in the SEC v. Ripple lawsuit and the broader regulatory framework will continue to shape the course of XRP and the overall cryptocurrency market.
Following these positive developments, Bitcoin (BTC) has experienced an almost 30% rally over the past month. At the time of filing this report, the world's largest digital currency is up by approximately 1%, in the last 24 hours, exchanging hands for $36,662. In the same vein, the global crypto market cap stands at $1.44 trillion, representing a 0.7% increase in the daily timeframe, according to CoinGecko.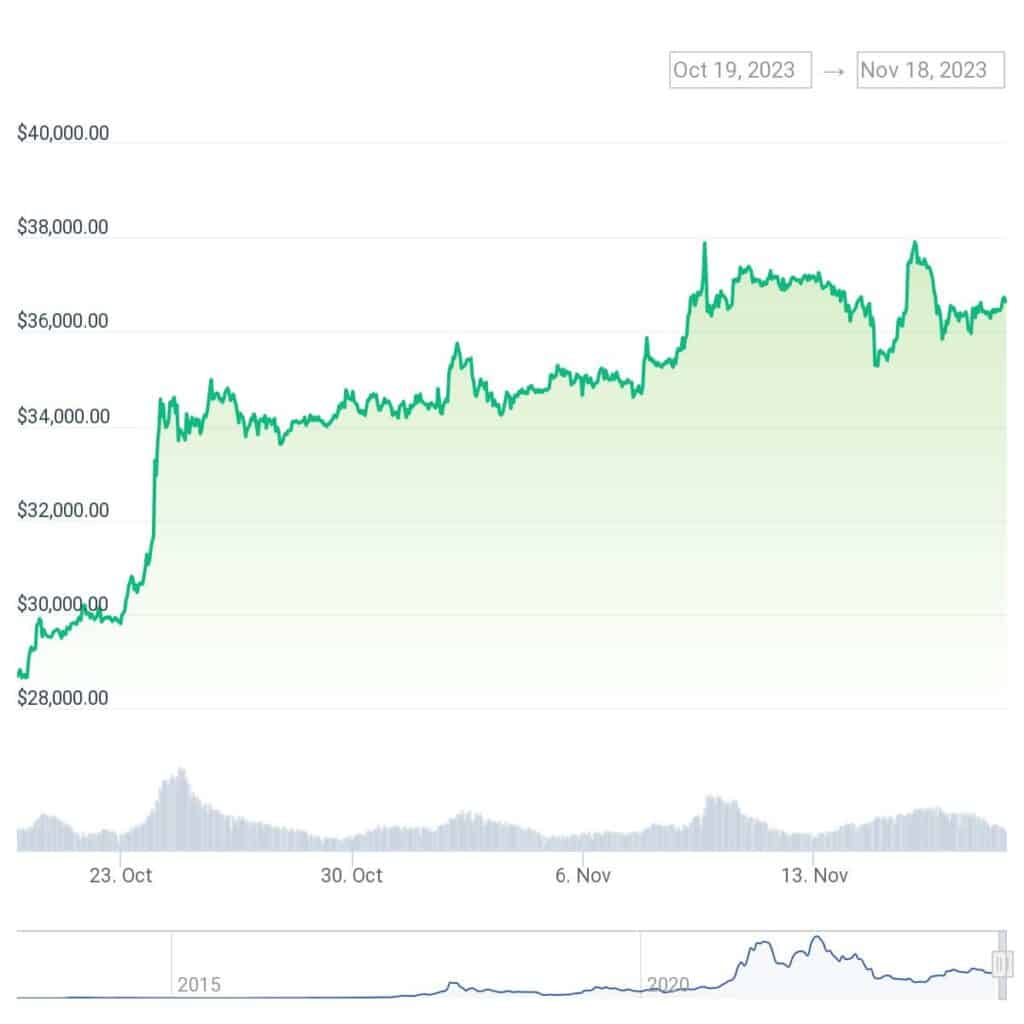 In 2023 alone, over a dozen companies have sought approval for spot Bitcoin ETFs, and now, several others are applying for similar products tied to ether, the second-largest cryptocurrency. 
The regulator has not revealed its stance on these recent applications. Earlier rejections raised concerns about market manipulation and a lack of surveillance-sharing agreements for Bitcoin. 
Applicants argue that these concerns have been addressed or are no longer relevant, especially after the approval of Bitcoin futures ETFs, a viewpoint supported by an appeals court earlier this year. The SEC has yet to make final decisions on these applications, causing delays.
No ETF hope in sight  
The U.S. Securities and Exchange Commission (SEC) has also postponed its decision on Hashdex's application to transform its current Bitcoin futures exchange-traded fund (ETF) into a spot vehicle. Additionally, the agency has also deferred its decision on Grayscale's proposal to introduce a new Ether ETF based on futures. 
Last September, both Hashdex and Grayscale submitted filings to convert their respective Bitcoin futures ETFs into spot Bitcoin ETFs. The initial deadline for both filings to receive a decision was on Nov. 17, but the SEC has extended this timeframe.
Read More