This week, the broader crypto market was generally bullish, but some crypto assets, including Bitcoin (BTC), Solana (SOL) and THORChain (RUNE), took the limelight, each hitting new yearly peaks amid remarkable gains.
This week, Bitcoin made a notable attempt to reclaim the $38,000 for the first time since May 2022. Bitcoin's uptrend saw it surge 8.2% to a new yearly high of $37,972 on Nov. 9 before witnessing opposition. A lack of bullish updates on the anticipated ETF approval has contributed to recent sluggishness.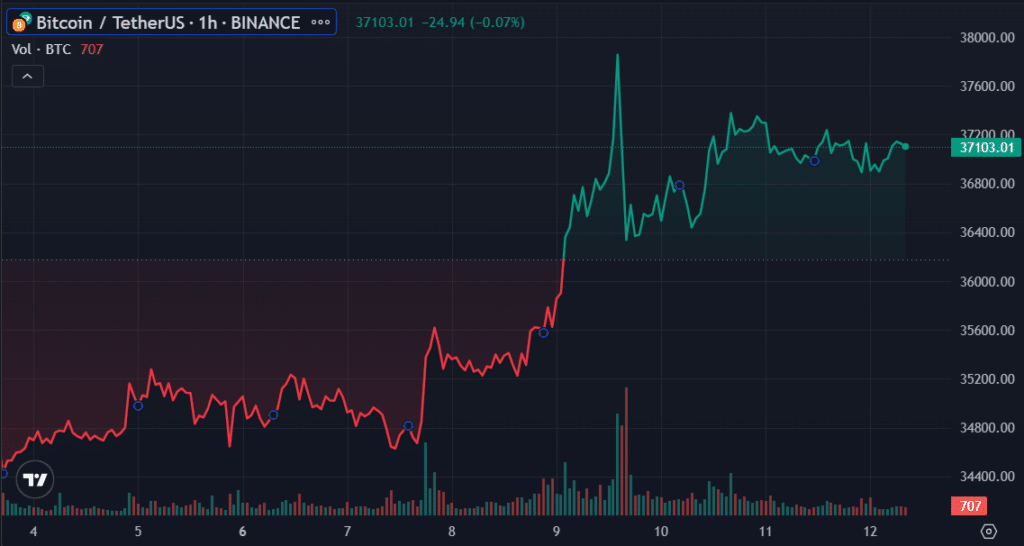 The $37,972 price represented Bitcoin's closest value to $38,000 since it collapsed below the price territory in the wake of the Terra implosion last May. On its way to register another bullish weekly close, this would mark Bitcoin's fourth weekly gain, with a 32.94% increase within this time frame.
Despite the general bullishness, BTC has faced stern opposition this week, with a modest intraday loss of 0.46% yesterday. The bears have persistently pushed to bring the asset below $37,000, but the bulls have mounted a solid defense, hedging against substantial declines and maintaining the uptrend.
Amid the upward trajectory, BTC comfortably sits above the 50-day MA ($30,331) and the 200-day MA ($28,604), demonstrating bullish momentum in the short and long terms. Its journey to reach $38,000 features notable resistance points, one of which sits at $37,610 on the Fib. 4.236 level. Bitcoin currently trades for $37,112.
Solana (SOL)
Solana had a pleasant surprise for market participants this week, with a series of impressive spikes recorded from Nov. 9 to 10. Beginning the week with $42.41, SOL faced a rocky start. It registered a discouraging 2.97% intraday loss on Nov. 5, closing the day at $41.15.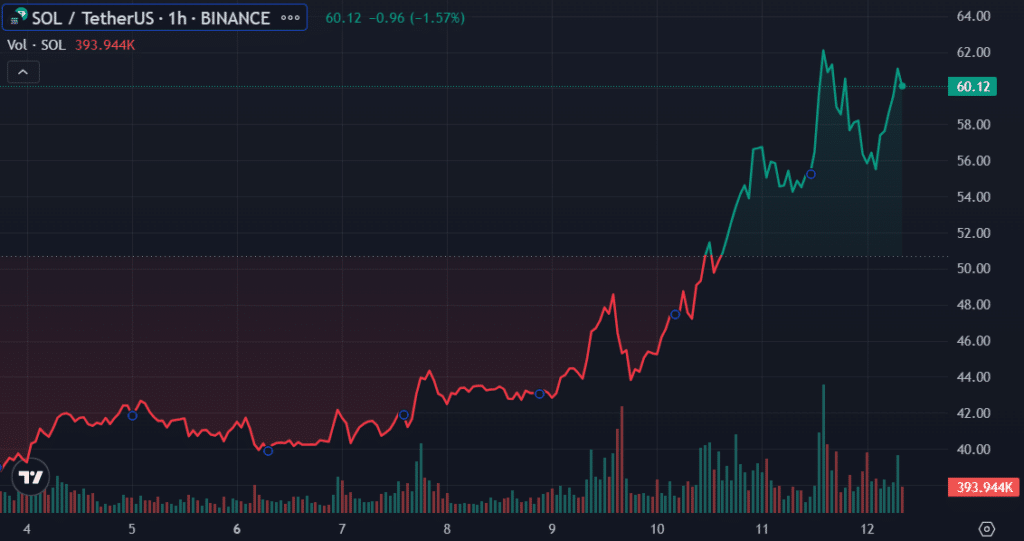 Bulls eventually found strength, triggering a 4.75% gain from Nov. 6 to 8.
Solana observed a notable spike to $48.88 on Nov. 9, but the bears resisted a measured move to the $50 zone. Notably, Solana dropped below $50 last May and has failed to recover the price territory since then.
Nonetheless, a massive price surge on Nov. 10 saw Solana reclaim and tower above the $50 threshold, registering a new yearly peak and recouping all the losses from the FTX implosion which saw it plummet to $8 last December. Interestingly, this uptrend coincides with a daily of 250,000 to 700,000 SOL by the FTX estate over the past two weeks.
The initial concerns surrounding the effects of a widespread dump from FTX were already priced in. With the dump already ongoing, capped at $100 million a week, market participants had started trooping in, seeing as the asset has continued to hold strong. As a result, Solana investment products saw $10.8 million in inflows last week.
SOL witnessed another rapid spike yesterday, surging to an 18-month high of $63.95 before facing a massive drop. Solana has continued to battle the bears in an effort to retain the $60 territory. The asset currently trades for $59.91, with a 42% increase this week.
THORChain (RUNE)
Like Solana, THORChain's momentum picked up at the latter part of the week. RUNE's good fortunes started on Nov. 9, as it closed the day with a 17.95% increase. Despite the uptrend, RUNE faced resistance at $4 on Nov. 9, dropping below the price zone after briefly reclaiming it.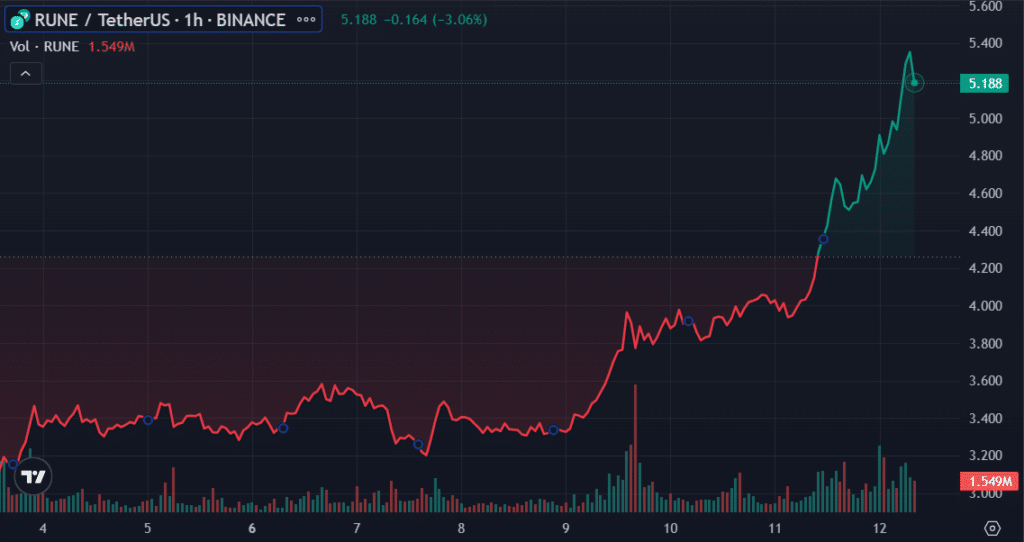 With a subsequent 2% gain on Nov. 10, THORChain eventually closed the day above $4, flipping it into support and looking to leverage the price position for further gains. This attempt was successful, as RUNE used $4 as a launchpad for a surge to $4.8 yesterday.
The momentum remained strong at the close of day, with an impressive 9.46% increase this morning. RUNE has recovered the $5 price, currently trading for $5.173. THORChain is now up 26.48% over the past 24 hours and 51% in a week.
Read More