Binance's new self-custodial crypto wallet will be tied to the exchange's infrastructure, and users won't be able to export private keys.
Cryptocurrency exchange Binance has become the latest company to roll out its non-custodial crypto wallet as its market volume share has weakened in the last three months.
In a press release on Nov. 8, Binance said it has developed its solution dubbed "Web3 Wallet" in partnership with the product and engineering team at Trust Wallet. It is worth noting that Binance acquired this cryptocurrency wallet in July 2018.
Shortly after the news on the solution broke, Trust Wallet's native token TWT plunged by more than 10% down to $1.45, according to CoinGecko.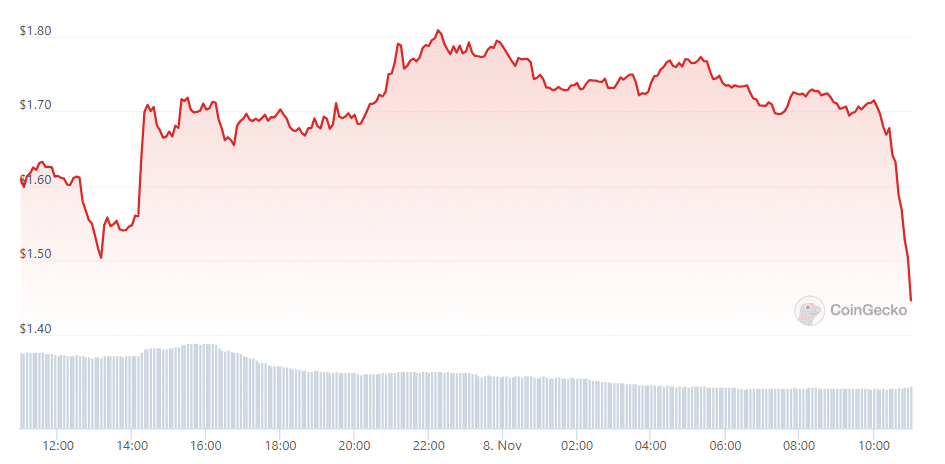 Although Trust Wallet helped Binance develop the wallet, control over Web3 Wallet's features, such as operations and services, will be autonomously controlled by the exchange only.
According to the press release, Binance's wallet incorporates multi-party computation technology, allowing breaking private keys into three smaller parts known as key-shares.
Other technical details behind the wallet were not disclosed, which makes it unclear if Binance collects data related to user identification, such as contact details, profile information, and so on, as ConsenSys did with MetaMask.
Richard Teng, Head of Regional Markets at Binance, said Web3 Wallet is based on the exchange's security infrastructure without going into details.
According to Binance Web3 Wallet terms of use, those interested in setting up Web3 Wallet will have to register an account on the exchange, passing the KYC processes. The address of the non-custodial wallet will be bound to the Binance Account, which means you can not change the address of the Binance Web3 wallet after its creation.
Moreover, users "will not be able to export or import a private key or seed phrase" to regain access to Web3 Wallet as it incorporates MPC technology.
Private data tracking
As crypto.news earlier reported, ConsenSys announced a privacy policy change in November 2022, revealing that it collects such private data as IP address and Ethereum (ETH) wallet address when users send transactions using its blockchain provider Infura via MetaMask.
A month later, as the news sparked outrage, ConsenSys decided to stop keeping track of IP addresses and transaction data.
Binance's legal troubles
The launch of Web3 Wallet comes amid reports that trading volumes on Binance have been steadily declining since late 2022. According to Kaiko, trading volumes on the crypto exchange fell from 74% in December 2022 to 50% in October 2023.
In 2023, in several European countries, the largest crypto exchange was deprived of its license. In addition, the French division of the company was investigated due to its work before obtaining a license and suspicions of aggravated money laundering.
Read More